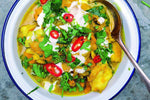 Jemima Jones and Lucy Carr-Ellison dish up a fragrant smoked-fish curry.
This recipe was inspired by a delicious smoked-fish curry we had last year at Towpath — a seasonal café on Regent's Canal (closed over the winter months, sadly). 
We followed our lunch with a visit to our friend Max, who has set up The Secret Smokehouse, smoking trout, salmon, kippers and haddock under the arches in Hackney. Max started out smoking fish in his garden shed in Stepney using the traditional oak chips method but has now expanded to supply top restaurants (you can also buy directly from him). 
Back in the kitchen we wanted to make a dish that was fragrant and light enough to not leave us feeling slug-like afterwards. This is good for lunch or supper and keeps well in the fridge for a couple of days.
Turmeric, known for its anti-inflammatory and antioxidant properties, is one of the key ingredients here. We also use it in our immune-boosting morning shots (lemon, ginger, turmeric, honey and cayenne pepper), while Golden Milk (coconut milk heated with turmeric, cinnamon, honey and black pepper) is a winner if you feel a cold or sore throat coming on. We juice fresh turmeric, but if you can't find it fresh then make a paste by mixing a little water with the powdered version. Make sure you wear gloves though as it seriously stains — you don't want to end up with fingers that look like they belong to a chain-smoker.
Smoked haddock and sweet potato curry
Ingredients (serves 3-4)
1 tbsp of coconut oil
1 large onion, chopped 
3 garlic cloves, chopped 
1 thumb of ginger, peeled and chopped 
1 bird's eye chilli, finely chopped
1 bunch of coriander stalks, chopped (save leaves for the top)
1 tsp of coriander seeds, crushed in pestle and mortar 
1 thumb of turmeric, peeled and juiced or grated (or 2 tsp of powdered turmeric)
4 lime leaves 
1 sweet potato, peeled and chopped into 1cm cubes 
2 tsp of fish sauce 
1 large glass of white wine 
1 can of coconut milk
500g of smoked haddock, skin and bones removed
1 lime, juice and zest
1 handful of spinach 
Salt and pepper
Method
Heat the coconut oil in a pan, then add the onion and garlic and sauté for a few minutes. Add the ginger, chilli, coriander stalks and seeds, turmeric and lime leaves and continue to sauté for 5 minutes, stirring occasionally. 
Add the sweet potato, fish sauce, white wine and coconut milk and bring to a low boil. Simmer for 12 to 15 minutes until the sweet potato is soft.
Chop the haddock into large chunks and add it to the pot, stirring carefully, and cook for a further 4 to 5 minutes. Add the lime and spinach and season to taste.
Divide between bowls and serve with yoghurt, fresh chilli, coriander leaves and lime.
Follow ES Magazine on Facebook and Twitter: @EsMagOfficial
Or even better follow Tart on Instagram: @Tart_London